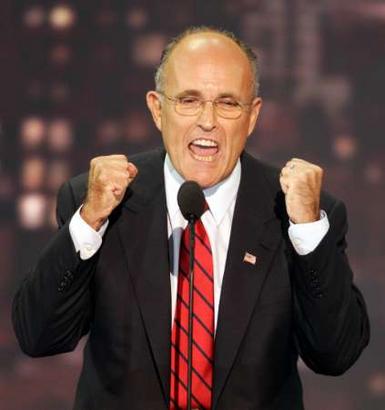 Former New York City Mayor Rudy Giuliani appeared on Friday's edition of MSNBC's
Morning Joe
with hosts Joe Scarborough and Mika Brzezinski, and guests Lesley Stahl and Donny Deutsch, and the onetime Republican presidential candidate had a constructive critique of his successor's handling of last week's blizzard, and also of the governor of New Jersey's disappearing act during the weather emergency.
Giuliani said that overall New York Mayor Mike Bloomberg has done a good job as mayor, and shouldn't be judged by the poor snow removal performance in the city last week. A Marist poll has said that only 21% of New Yorkers thought that the mayor handled the situation well, while more than 70% thought he did a poor job.
But Giuliani's most pointed criticism was directed towards New Jersey Governor Chris Christie, who went to Disney World on the day the blizzard hit, while his lieutenant governor was also vacationing. State Senate President Steve Sweeney, a Democrat and third in command, was in charge while the Republican governor was in Florida. Rudy joins Republican stalwarts Pat Buchanan, Ed Rollins, and former New Jersey Governor
Christine Todd Whitman
in tweaking the YouTube star Christie for his no show during a statewide emergency.
In the interview Mika Brzezinski asked.... "Was it (taking a vacation during an emergency) a mistake on Chris Christie's part?"
Giuliani- "Yeah. Chris should have come back. If he would have asked my advice I would have said, 'They elected you governor, they've got an emergency, they expect you to be there. You've got to be there if you are a governor, a mayor, or even a president if it's important'".
There's a famous YouTube video that might be responsible for putting Chris Christie in the public eye. In it, Christie tells a teacher at a town hall meeting that if she doesn't like the conditions in schools that she doesn't have to teach.
And turnaround being fair, if Chris Christie doesn't want to govern during a weather emergency, then he doesn't have to be governor.
But it is the business he has chosen.